The number on question every single business owner asks me is: "How do I legally save as much as possible on taxes?"
A few months ago we taught a 5 day mini-series for our Diamond Members called "2X BY ONE HALF": Five Strategies to Double Your Revenue and Five Strategies to Cut Your Risk In Half. 
This morning, I was digging up the slide to edit for the upcoming "Certainty Summit" and figured that it would be helpful to hare a few of them with you here.
Most small business owners like you are losing money due to having the wrong entity set up. In fact, the cash being lost is often the second or third biggest cost (behind overhead and payroll)!
The good news it, it's often much easier/faster/more efficient to plug this particular hole in the bucket. 
For example, if your business generates $220,000 in revenue and still files as a sole prop or partnership there is likely over $10,000 sitting right here to be recovered:
If you have multiple companies, like we do, you can consolidate your tax filings, protect your identity, allow for a mix of entity types and minimize self employment tax by having a single holding company that owns the other entities: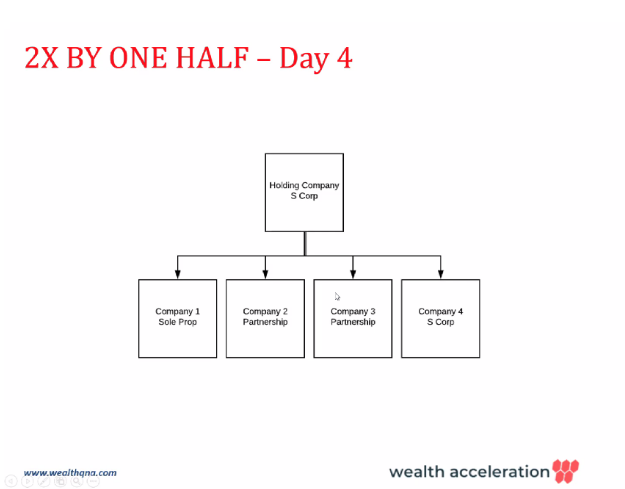 This strategy (above) allows for special allocations while minimizing self employment tax exposure. 
REMEMBER: If you operate at, say, 40% profit margins, taking a few minutes to save $20,000 is the equivalent of making $50,000 in sales – it's well worth the time. 
If your accountant or CPA has never brought this up, I'm not surprised, most accountants are trained in the "Archaeological dig", which is to maximize savings based on how things are already set up and what is already done, there is very little forward looking strategy. With a few tweaks, we can crate a massive amount of new opportunity to save and reallocate cash. 
Dan Nicholson
Resources:
The slides are from the 2x By One Masterclass 
The Full Tax Optimization Roadmap is available in the Platinum Member Bundle
If you want my team to help you set this up watch this PPP training and register for a custom Profit Takeover